Listening to the sound of birds chirping, water flowing down the nearby river and the odd calls of prayer at the many temples surrounding us (22 in fact), the small town of Orccha is by far the most serene place we've visited on our trip.
Back in the 17th century, this little town used to be the capital of the small Hindi kingdom of Rajput, coexisting alongside the larger Mogul kingdoms in Delhi and Agra, which has some of the most magnificently persevered palaces and temples surrounding it and a prime example of Hindu design at the time.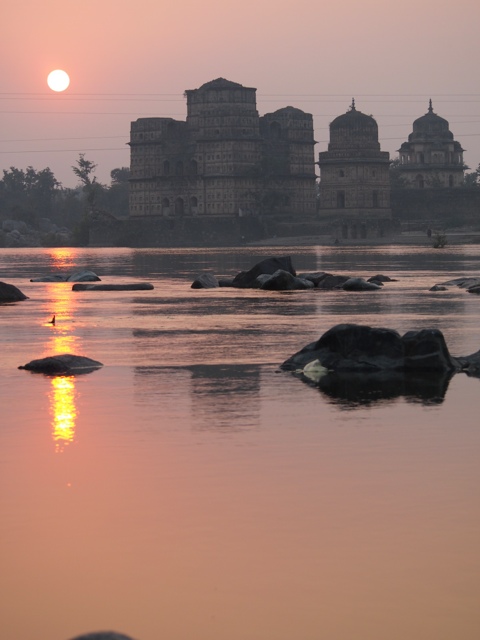 So far we've been moving at a slow pace, dining at the local restraunts, checking out the wares at the local shops, playing badminton with some street kids and taking a tour of the 'haunted' kings palace. It seems almost strange to not be hearing horns and traffic while outside the little tents we have as accommodation; which still fit two beds, a storage room, bathroom with shower and a tele in there some how.
All this relaxing has caused us to take a beating from the merciless sun however, which while hot is comforting in the early morning and evening thanks to the cold. I could have sworn it was below ten last night 🙁
The area around the town is mostly farmland with the odd village mixed in, sugar cane seems to be the local favourite I think, with one of these having a little paper factory that's sponsored by Intrepid. We took a little tour of this earlier today and caused a bit of a stir with the locals when Scott, the groups single Kiwi, was asked whether he was married by one of the women working there. What followed was a humorous little conversation where a couple of marriage proposals were passed around, by the end he'd managed to make it out still a bachelor and the women had a good laugh at the entire event.
Anyway, tonight we'll be heading up to one of the grandest temples before dinner, after which we'll witness a proper hindu ceremony at the more local temple. The town seems to have spread out around these larger monuments from ages past, quite the contrast considering the high towers of the temples compared to the two/three storey building around them.
Victoria hasn't been feeling 100% for a little while, she's now resting along with Phill and Matt whilst I enjoy some R&R out in the lovely afternoon sun.
Now all I need to do is find a handkerchief…
P.S. I've realised the reason why motorised Rickshaws last forever; there ain't much to them!