Amazing peaceful day in Pokhara walking along the lake beside little blue boats and daisies!!! The mountains appear to dip into clear blue waters as wooden paddles ripple it's surface!!! The broken reflection of the glowing sunlight shining down from above…is….ahhhh heavenly!! The only interruptions to these moments of peaceful serenity is the sweet cracking voices of grandma's calling out "Namaste" and jigging some hand crafted necklaces when you turn your head to respond!!! But it sought of brings an extra charm to the place as they ponder along the lake path with their shawls and little backpacks!!! This, next to the triumphant shouts of the local soccer team "MMC" partying on the top of a moving bus after winning a international soccer competition, gives a little chilli and spice to this relatively quiet city!!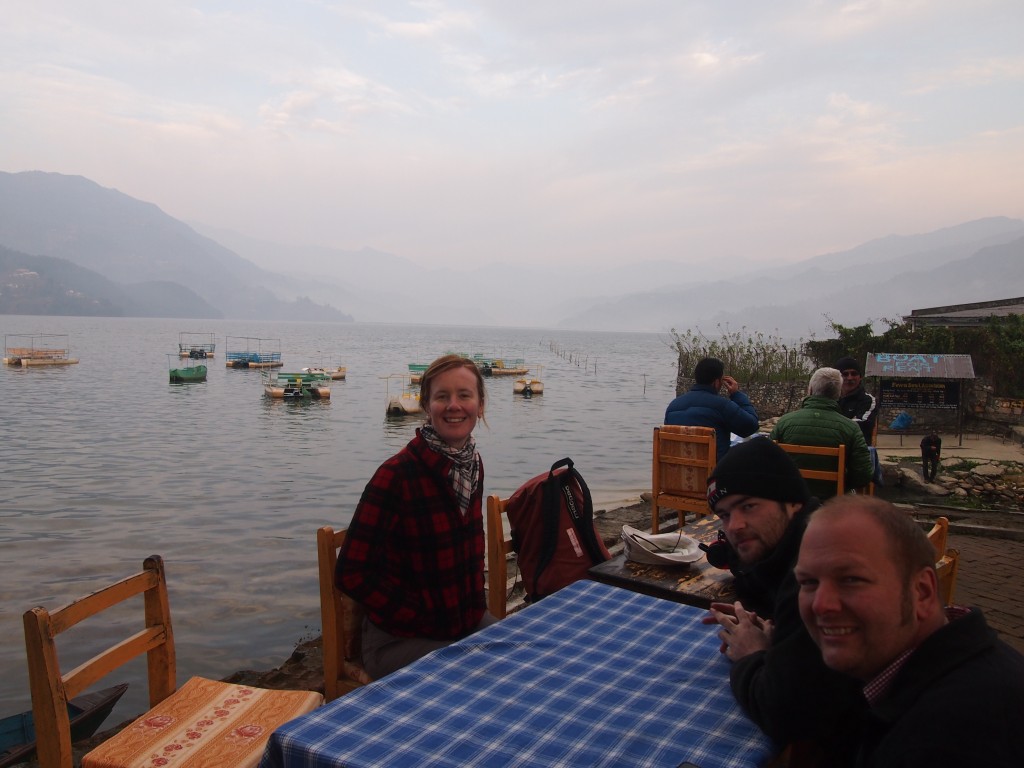 After a early morning wake-up with Andy thinking it was 9:55 but in reality was 8:55, we slowly wandered down past the touristy shops towards the foreshore!!!! Glimpsing white deck chairs and sunshine lit gardens, how could we say no to a lakeside restaurant called "Boomerang" to remind us a little bit of home!!! With grumbling tummies there was little left of our trekker's breakfast, omelettes and Marsala tea. Afterwards we decided to organise our walking trip into the mountainside wilderness and rested in the gentle breeze blowing across the lake waters!!!
Tomorrow the adventure continues south-west of Pokhara to Panchase a little country village with spectacular views of the Annapurna range and it's snow capped mountains!!! As the sun sets over the World Peace Pagoda and splashes of gold slice across the milky clouds, you could say we were falling in love with Nepal, a rugged mountainous country of colour and pure wilderness!!