Well that's it, as of this morning the Intrepid tour has come to an official end and we're back on our own in this strange foreign land. It's been great fun hanging with the five other members of our group: UK Matt, Anika the German, Steve the Botanist, Scott the hearty Kiwi and our Indian leader Naji. We have a lot of good memories, some we managed to catch on film, while others will just be between us until we eventually meet again. It is a small world after all!
Anyway the final days of our trip had us lodged in the tourist district of Nepal's capital; Kathmandu! This lovely city sits within a massive valley, surrounded on all sides by mountains and is home to 4 million people. Perhaps thanks to the earlier rains, the city lacked the dusty air that had dominated Varanasi and many other Indian cities and towns. The sky was also a fair blue and clear, making the nights far cooler than we'd previously encounterd and requiring a thick dooner or a few layers of thermals!
Of course being the climbing capital of the world also has it's perks; that being the numerous shops selling cheap camping and hiking gear. Of coarse a lot of it is fake and of poor quality to the originals, it's certainly temping even with the risk.
This is also the first city we've seen a major presence of Buddism around, with small to large temples being scattered everywhere alongside the numerous prayer wheels and flags which accompany them. I have to remark Buddism runs a very efficient religion/philosophy to follow with just a couple of spins of the prayer wheel each day, or merely a breeze to gently move the colourful prayer flags.
There are many monks on pilgrimages to the two major temples in Kathmandu: the Monkey temple and the Buodha, which are in tern followed by more ambitious salesmen trying to earn a little money from the tourists. Some of the artwork is really high quality, such as the Tibetan paintings, stone carvings and brass work, but there's so much of it around it's hard not to be overwhelmed.
Thankfully we were given a wonderful opportunity this morning with a 7am flight to get up close to Mount Everest, the tallest peak on Earth. Hopes were a little low thanks to having the previous mornings flight being cancelled after nearly 3 hours waiting in the airport, but thankfully the fog cleared and we were on our way. The little turbo prop plane rattled it's way up to give us some fantastic shots of the surrounding mountain ranges and prize itself. In fact we had ample opportunity to see it with poor weather forcing the plane to keep airborne for another hour. We certainly got our money's worth of the $177 US tickets 😀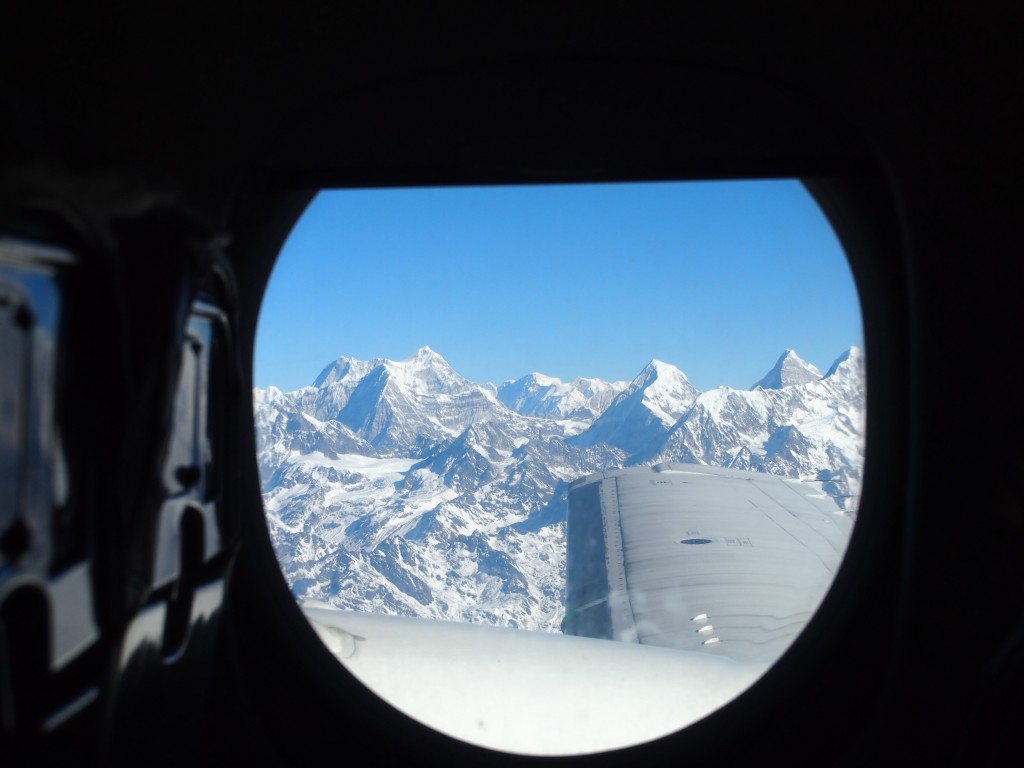 Right now we're resting in a little hotel in the neighbouring town of Pokra (a 30 minute flight or a 6-8 hour drive from Kathmandu :$), a pretty little town nested by a large lake, surrounded by mountains and the adjacent to the Anapuna sanctuary! Hopefully we'll be over the worst of the bugs and fatigue by then to really get into the hiking!